Cartons for Small Components
Conveniently package small, easy-to-lose components in boxes for neat stacking and customer handiness.  Snug fitting cartons are a very secure and protective way to pack delicate parts or trinkets as the object is held firmly in place during handling.
Re-usable plastic containers give professional protection for even the smallest items.  Versatile telescopic cartons are ideal for varying quantities or sizes of product.
Many of the small boxes are separate base and lid, or hinged lid pizza box style for ease of filling and designed for maximum strength.  Although the range stocked is large, you may have a custom size requirement which our helpful team will be happy to assist with.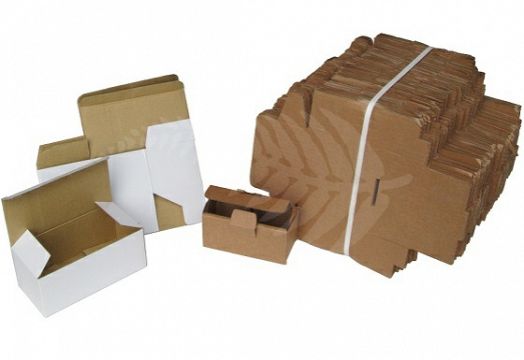 Small cartons available from stock
| Code | Internal Size (length x width x height) | Grade | Style | Pack Qty |
| --- | --- | --- | --- | --- |
| #WSBB05 | 70 x 50 x 31mm (2¾ x 2 x 1¼") | White FBB | Tuck-in Flap | 250 |
| #SBB20 | 190 x 90 x 60mm (7½ x 3½ x 2¼") | 1000mu Grey | Base & Lid | 20 |
| Code | Internal Size (length x width x height) | Grade | Style | Pack Qty |
| --- | --- | --- | --- | --- |
| SF/DC217 | 105 x 70 x 65mm (4 x 2¾ x 2½") | STD Kraft | 0426 | 50 |
| SF/DC50 | 114 x 89 x 38mm (4½ x 3½ x 1½") | STD Kraft | 0426 | 50 |
| SF/DC51 | 127 x 54 x 62mm (5 x 2 x 2½") | STD Kraft | 0426 | 50 |
| SF/DC164 | 128 x 105 x 85mm (5 x 4 x 3¼") | STD Kraft | 0421 | 50 |
| #SF/DC161 | 130 x 130 x 60mm (5 x 5 x 2¼") | HD Kraft | 0421 | 100 |
| SF/DC52 | 145 x 130 x 55mm (5¾ x 5 x 2¼") | MD Kraft | 0427 | 50 |
| SF/DC41 | 150 x 82 x 60mm (6 x 3¼ x 2¼") | MD White | 0470 | 100 |
| #SF/DC123 | 150 x 150 x 80mm (6 x 6 x 3¼") | STD Kraft | 0421 | 50 |
| #SF/DC133 | 165 x 165 x 70mm (6½ x 6½ x 2¾") | HD Kraft | 0421 | 50 |
| #SF/DC132 | 170 x 120 x 64mm (6¾ x 4¾ x 2½") | HD Kraft | 0470 | 100 |
| #SF/DC165 | 180 x 180 x 85mm (7 x 7 x 3¼") | HD Kraft | 0428 | 100 |
| SF/DC80 | 240 x 169 x 50mm (9½ x 6½ x 2") | MD White | 0431 | 50 |
| Code | Internal Size (length x width x height) | Grade | Style | Pack Qty |
| --- | --- | --- | --- | --- |
| #TB/112 | 140 x 90 x 40mm (5½ x 3½ x 1½") | STD White | 0330 | 50 |
| #SF/DC129 | 215 x 180 x 72mm (8½ x 7 x 2¾") | STD White | 0304 | 15 |
| #SF/DC131 | 230 x 156 x 72mm (9 x 6¼ x 2¾") | STD White | 0304 | 15 |
Code
Internal Size (length x width x height)
Grade
Pack Qty
#SF/STD113
127 x 127 x 127mm (5 x 5 x 5")
STD Kraft
25
SF/STD42
150 x 115 x 160mm (6 x 4½ x 6¼")
STD Kraft
25
SF/STD53
152 x 152 x 152mm (6 x 6 x 6")
STD Kraft
25
SF/STD54
178 x 178 x 178mm (7 x 7 x 7")
STD Kraft
25
SF/STD55
190 x 190 x 76mm (7½ x 7½ x 3")
MD Kraft
25
SF/STD56
203 x 152 x 100mm (8 x 6 x 4")
STD Kraft
25
SF/STD57
203 x 203 x 203mm (8 x 8 x 8")
STD Kraft
25
SF/STD201
230 x 150 x 65mm (9 x 6 x 2½")
STD Kraft
25
SF/STD47
230 x 150 x 100mm (9 x 6 x 4")
STD Kraft
25
SF/STD58
230 x 152 x 152mm (9 x 6 x 6")
HD Kraft
25
SF/STD48
230 x 170 x 80mm (9 x 6¾ x 3¼")
STD Kraft
25
| Code | Internal Size (length x width x height) | Grade | Pack Qty |
| --- | --- | --- | --- |
| DF/0120 | 140 x 140 x 140mm (5½ x 5½ x 5½") | STD Kraft | 15 |
| DF/0455 | 190 x 115 x 110mm (7½ x 4½ x 4¼") | HD Kraft | 15 |
| DF/0176 | 203 x 152 x 100mm (8 x 6 x 4") | STD Kraft | 15 |
| #DF/0509 | 200 x 200 x 200mm (8 x 8 x 8") | STD Kraft | 15 |
| Code | Internal Size (length x width x height) | Style | Pack Qty |
| --- | --- | --- | --- |
| #CPL2213 | 19 x 10mm (¾ x ⅜") | Round | 1000 |
| CTPF25 | 22 x 50-60mm (1 x 2-2¼") | Round Telescopic Twist-lock | 275 |
| #CTB468 | 40 x 60-80mm (1½ x 2¼-3¼") | Round Telescopic Twist-lock | 100 |
| #CTB31 | 20 x 20 x 123-203mmm (¾ x ¾ x 4¾-8") | Square Telescopic | 300 |
| #CTB32 | 32 x 32 x 160-266mm (1¼ x 1¼ x 6¼-10½") | Square Telescopic | 468 |
| #CTB33 | 40 x 40 x 133-215mm (1½ x 1½ x 5¼-8½") | Square Telescopic | 420 |