Manufactured using at least 60% recycled materials and starch based adhesives, which means they can be easily and completely recycled at any paper recycling plant.
Cardboard is biodegradable and will decompose naturally. The starch based adhesive used to hold the layers together is not harmful to the environment.  Cardboard can also be composted, although this may not be an option in an industrial environment. Boxes made with a higher percentage of recycled material are not so strong and not recommended for use when packing heavy items.
Carton Sealing
A range of tapes designed to securely fasten cartons using special adhesives and materials from sustainable sources.
E TAPE – smaller cores and longer roll length equates to almost 60% reduction in packaging waste compared to standard length rolls. 
Special acrylic adhesive effectively replaces solvents making it even more environmentally friendly.
Kraft paper tapes, both water activated and eco-friendly self-adhesive hot melt, offer secure sealing and can be fully recycled.
Tapes can be custom printed with your own personal design to further promote your brand.
Wrapping Materials
Eco-friendly wrapping using clever cushioning techniques and recycled materials. 
Embossed paper rolls the 'paper bubble wrap' and corrugated paper are manufactured with 100% recycled material and can be completely recycled once used. These products provide optimum cushioning and protection and can also be used for layering.
Kraft paper, both pure and imitation, made with paper from managed sustainable sources offer excellent wrapping, layering and void filling.
All are available in a range of widths and grades from stock. 
Mailing
Strong paper sacks and recycled film bags ensure your products are shippped with minimal impact to the environment.
The original paper padded mailing bags are made from natural fibres with a 100% recycled paper inner layer.  These bags provide outstanding protection and cushioning for many items in transit.  They can be fully recycled making it easy to dispose of when no longer required.
Paper sacks offer a traditional alternative to the polythene mailing bags and can be easily recycled once used.
Eco-friendly polythene mailing bags are manufactured from recycled material and can be disposed of by standard plastic recycling methods.  Biodegradable film options are also available.
Void Filling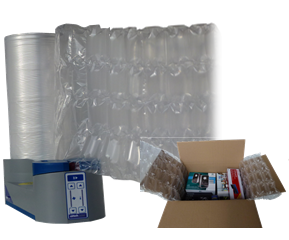 Options for low and high volume users for a variety of packing situations.
AIRTECH – environmentally friendly air cushioning.  The film for these air pillows contains reclaimed raw materials from production waste.  Once the packaging is no longer required the film can be simply disposed of by existing recycling methods.
The low weight involved means parcels are lighter, which saves fuel when shipping – protecting your products and reducing carbon footprint.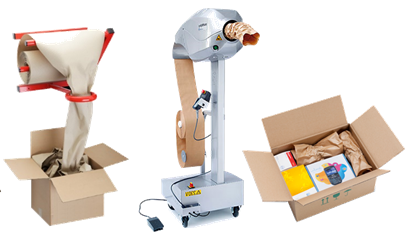 EASIFILL and PAPERplus systems use recycled paper material to create a variety of void filling options to suit low and high volume users. 
Superior strength means the pads can be reused.  The uncoated papers can be easily recycled when no longer required. 
Pallet Stability
Ensure loads are shipped securely with high performance films that reduce packaging waste.
Engineered films developed to give greater results with less film.  Excellent stretch and puncture resistance, but the lighter weight material reduces the impact on the environment.  Available for hand and machine applications.  Pre-stretched film can significantly decrease film usage.
Plastic strapping is, in actual fact, made from 100% recycled material and can be recycled by the general plastic waste facilities.  Consider using strapping to minimise your stretch or shrink film usage. 
Edge Protection
Edges and corners can be fully protected with cardboard profiles made from recycled materials.
Cardboard edges protect the most vulnerable areas.  They can be used to stabilise pallets and prevent strapping from scratching or damaging surfaces.
Available in 'L' and 'U' profiles they offer complete protection for doors, worktops, and furniture.
Manufactured using recycled materials they are fully recyclable or can be reused, offering a more environmentally friendly alternative to the foam edge protection.