Polyolefin & PVC Shrink Films
High clarity heat shrink films which enhance presentation of toys and games, gifts, stationery, food products, and also holds components together for point of sale display.
Polyolefin is a strong, tear resistant shrink film with excellent clarity and is suitable for food use.  Polyolefin film doesn't give off any toxic fumes when sealing or shrinking.  PVC film shrinks at a lower temperature than polyolefin.  Both films are supplied centre folded on a roll and are used with heat sealing machines and shrink systems for efficient packing operations.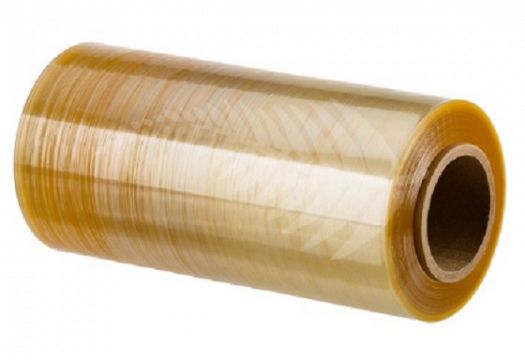 Polyolefin & PVC films available from stock
| Code | Size (closed width/open width x length) | Grade | Pack Qty |
| --- | --- | --- | --- |
| V25/06 | 150/300mm x 450m (6/12" x 492yd) | 25mu (100g) | 1 roll |
| V19/10 | 250/500mm x 600m (10/20" x 656yd) | 19mu (86g) | 1 roll |
| V25/10 | 250/500mm x 450m (10/20" x 482yd) | 25mu (100g) | 1 roll |
| V15/12 | 300/600mm x 750m (12/24" x 820yd) | 15mu (60g) | 1 roll |
| V15/14 | 350/700mm x 750m (14/28" x 820yd) | 15mu (60g) | 1 roll |
| V19/14 | 350/700mm x 600m (14/28" x 656yd) | 19mu (76g) | 1 roll |
| V25/16 | 400/800mm x 450m (16/32" x 482yd) | 25mu (100g) | 1 roll |
| V25/20 | 500/1000mm x 450m (20/40" x 482yd) | 25mu (100g) | 1 roll |
| V225/25 | 500/1000mm x 225m (20/40" x 246yd) | 38mu (152g) | 1 roll |
| V19/24 | 600/1200mm x 600m (24/48" x 656yd) | 19mu (76g) | 1 roll |
| V25/24 | 600/1200mm x 450m (24/48" x 482yd) | 25mu (100g) | 1 roll |
| Code | Size (closed width/open width x length) | Grade | Pack Qty |
| --- | --- | --- | --- |
| P15X | 250/500mm x 2000m (10/20" x 2187yd) | 15mu (60g) | 1 roll |
| P15/14 | 350/700mm x 1335m (14/28" x 1460yd) | 15mu (60g) | 1 roll |
| P15/16 | 400/800mm x 1335m (16/32" x 1460yd) | 15mu (60g) | 1 roll |
| P25/18 | 450/900mm x 800m (18/36" x 875yd) | 25mu (100g) | 1 roll |
| P15/20 | 500/1000mm x 1335m (20/40" x 1460yd) | 15mu (60g) | 1 roll |
| P25/32 | 805/1600mm x 1143m (32/64" x 1250yd) | High Strength Multi Layer | 1 roll |